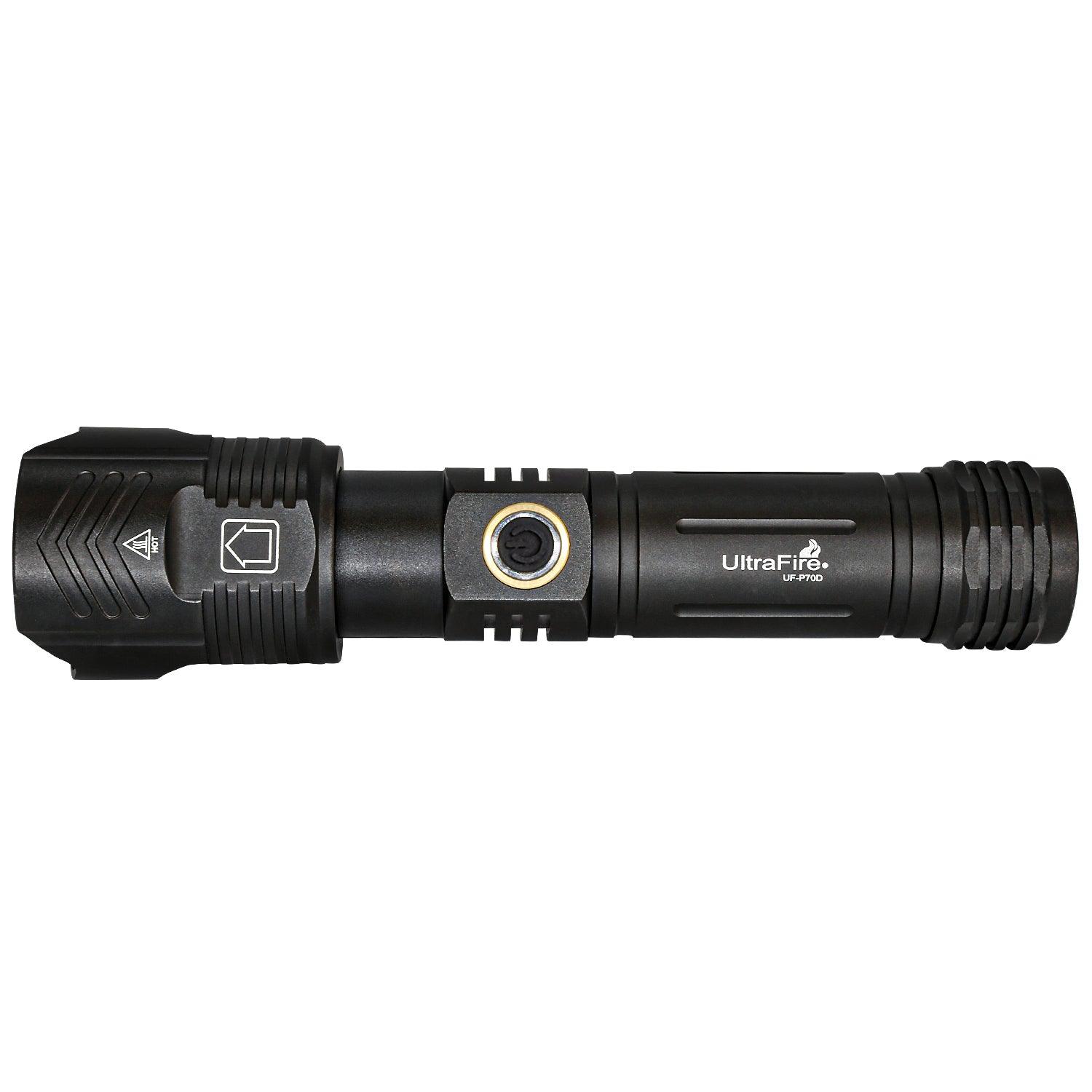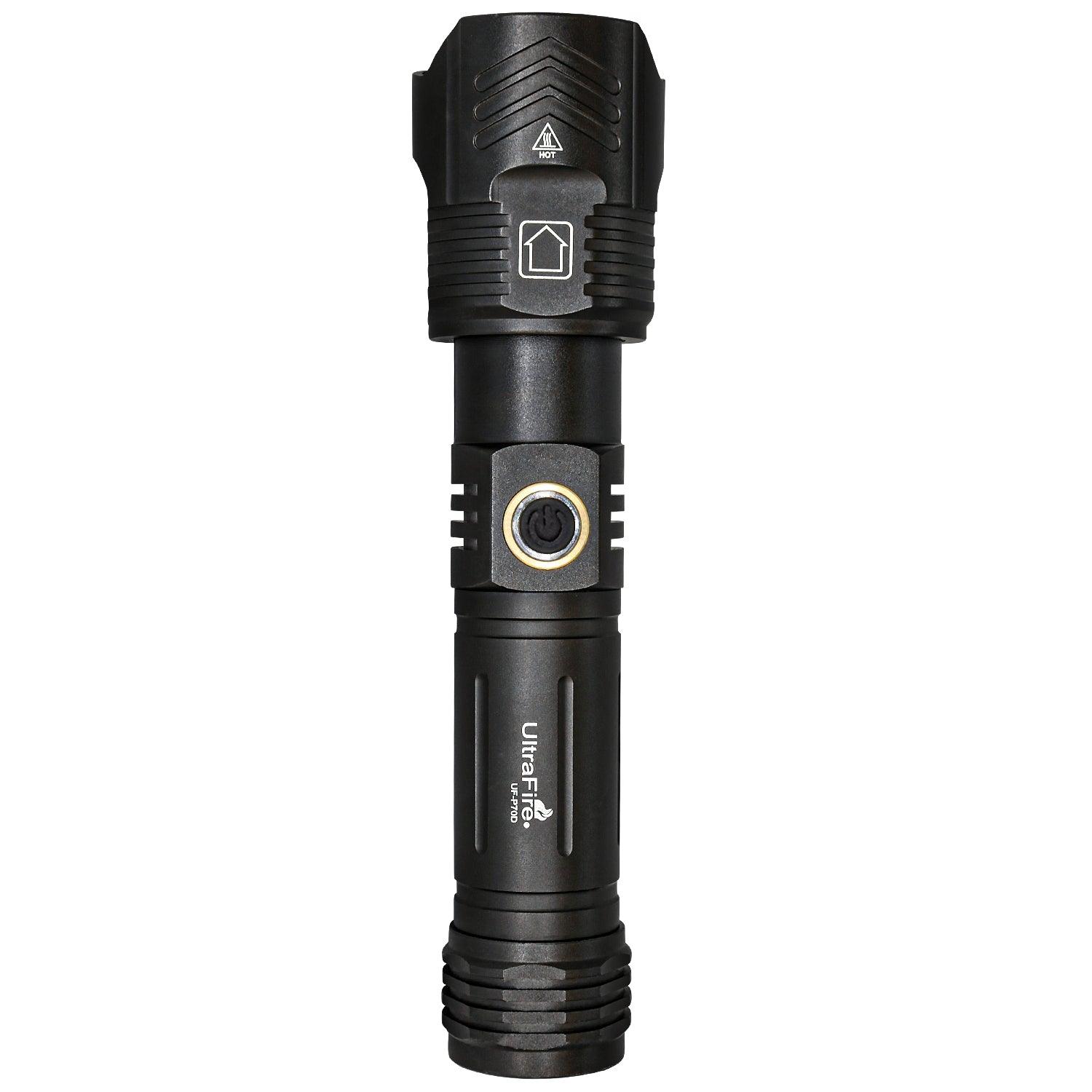 UltraFire Classic P70D USB Charging Flashlight
Lumens: 1800
Distance: 200m
Battery: 18650
-UltraFire P70D can throw that light a maximum distance of 656ft (200m)
- The UltraFire P70D Flashlight is a high-performance flashlight that is the perfect tool for outdoor work, delivering up to 1800 lumens
- Always know the battery's status with the battery level indicator and keep the included 2600mAh battery charged via the USB Type-C port
- Eagle eye convex lens, good light transmission performance, not easy to damage, strong aluminum attack head to protect the lens from wear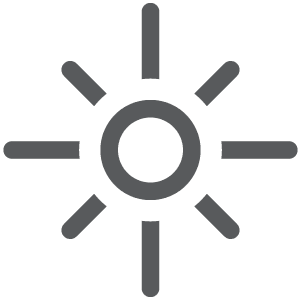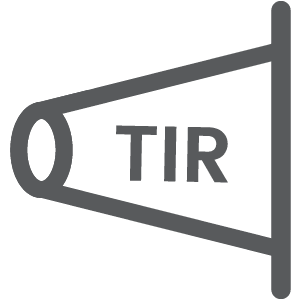 TOTAL INTERNAL REFLECTION LENS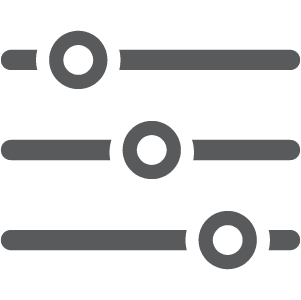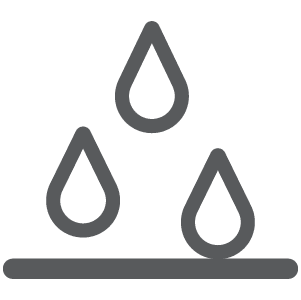 The

 Cree XHP90 Ⅱ 

with a lifespan of 10,000 hours.

5 modes (high, medium, low, slow flash, fast flash)

Can be used for e

veryday carry, outdoors, and law enforcement.

The light can be powered by

 

26650x1/18650x1/AAAx3

 

batteries in emergency situations. 

Red and green battery level indicators- single click the switch to see the remaining battery level, giving you the ability to confidently plan tasks and be well-prepared.
INCLUDED(FOR PACKAGE OPTIONS)




Battery Rack*1
Battery Protection Cover*1


UltraFire Battery Charger*1




UltraFire Classic P70D Flashlight*1




Lanyard,*1, 18650 2600mAh Li-ion Battery*1



WATER PROOF
IPX4
MAX BEAM DISTANCE
656ft (200m)-Visible Range
LIGHT SOURCE
XHP90 Ⅱ
BATTERY TYPE
18650x1 or

26650x1 or

AAAx3

SIZE
Length: 6.6" (167 mm), Body: 1.8" (46 mm), Head: 1.4" (35 mm)

HIGH MODE
1800 Lumens x 1 hour
MEDIUM MODE
900 Lumens x 2 hours
LOW MODE
540 Lumens x 3 hours
FAST FLASH
Yes(1800L

umens)

SLOW FLASH
Yes(1800L

umens)

USE FOR

Everyday Carry, Law Enforcement, Tactical