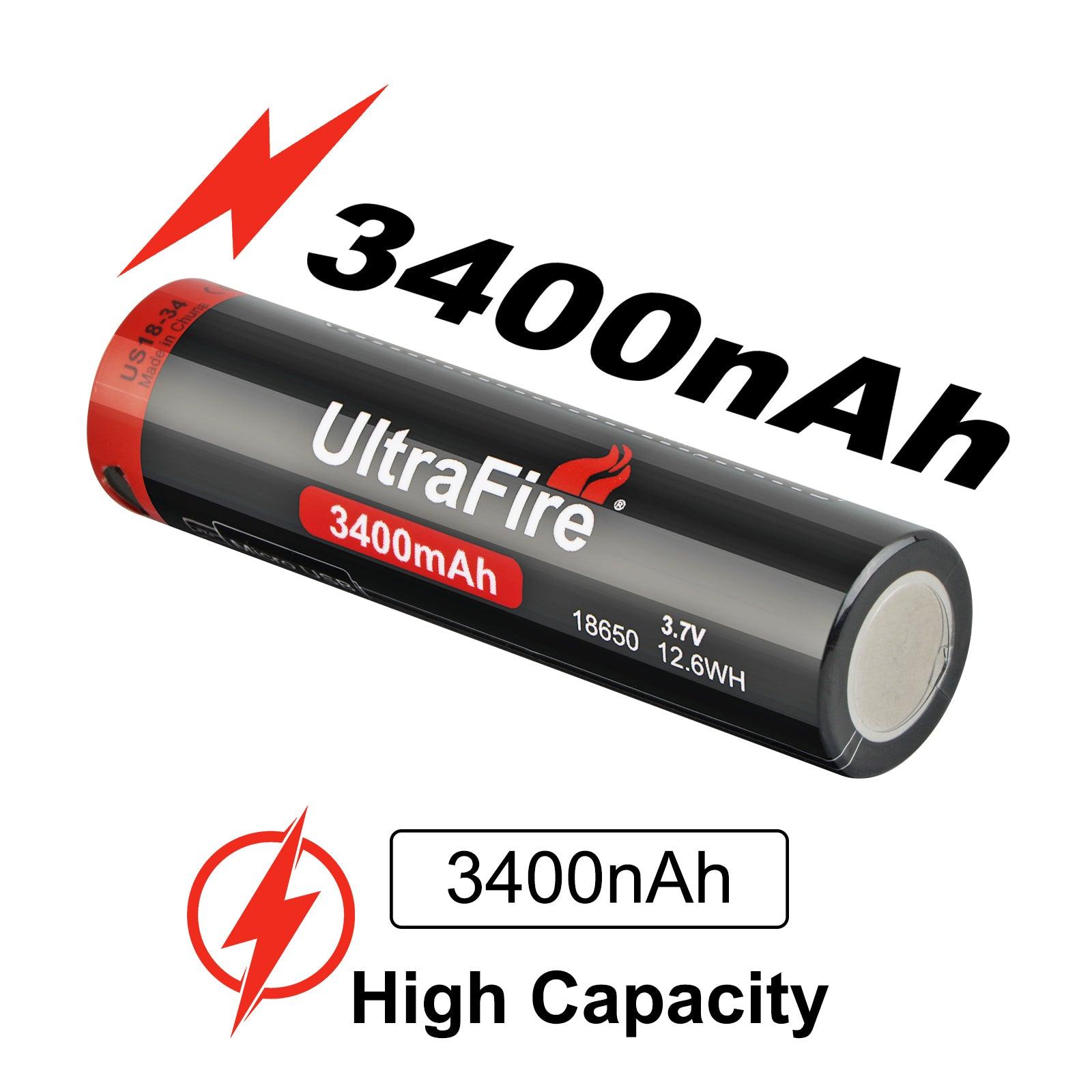 UltraFire 3400mAh 3.7V 18650 USB Rechargeable Lithium Battery with Protection Board (2PCS)
- UltraFire Batteries is safe and environmentally friendly. Excellent purpose-designed protected circuit
- UltraFire 18650 3.7V 3400mAh rechargeable lithium batteries have high discharge performance. More than 500+ recharge cycles -- Long battery life
- UltraFire rechargeable battery: Low discharge rate | No memory effect | High energy density & Pollution-free
- UltraFire 18650 Li-ion battery is low self-discharge makes itself still maintain 80% of capacity after 3 years of non-use
- UltraFire 3400mAh high capacity battery is widely used in your household devices, such as digital cameras, toys, remote controls, handheld games, 2-way radios, PDAs flashlights, alarm clocks, LCD-TVs, Toothbrushes, Shaver's, and portable audio players, delivering dependable power allowing you to maximize your music gaming, computer, photography and other electronic devices
Why UltraFire USB Rechargeable 3400mAh 18650 battery worth buying?
1) Long Run-Time: 3400mAh Actual capacity premium energy efficient high-output, 100% capacity 18650 can make your flashlight work over 8 hours. 
2) Durable: Batteries rechargeable up to 500 times! 
3) Built-in PTC: Using an innovational positive protection circuit and its positions on the positive of battery which is different from traditional circuit protecting board placement, that acts as a circuit breaker to shut down the battery if it gets too hot.
4) Triple Overheat Protection: automatically protects against overcharge, over-discharge and short-circuiting. 
5) External Safety Features: equipped at both ends with a nickel-plated S.S protector ensuring high impact resistance, good electrical conductivity, and oxidation resistance; tough plastic circuit board protector; coated with a durable metallic film to guard against abrasion. 
Please Notice:
✔ Since the protected board was compatible with USB-Micro charging, the length (69mm) is longer than the conventional 18650 battery. Please take careful consideration before using it on other devices.
✔ To protect the battery, we added a clear plastic protective film on the periphery of each battery. Please remove it before using the battery or charging, otherwise, the battery will not work. The indicator light lets you know when charging is complete, red is charging, and blue is done.
Attention:
1) Please fully charged the battery if long time not used or used for the first time.
2) Do not heat, disassemble or put the battery into fire.
3) Do not mix use old and new batteries or any different types of batteries.
4) Do not mix and use the different capacities of batteries.
5) Do not reverse the battery when charging and putting it into devices.
6) The batteries can only be charged by Li-ion 18650 rechargeable battery charger.
7) Do not charge the battery for too long.
8) Please remove the cling clear plastic wrapped around the battery before using the battery or charging.
Type: US18-3400
Capacity : 3400mAh
Rated Voltage: 3.7V
Charge Termination Voltage: 4.2V
Discharge Termination Voltage: 3.0V
Maximum Charge Current : 3A
Maximum Discharge Current: 6A
Material : Li-ion
Weight: 50g/1PCS
Dimensions: 71x 18.4x 18.4mm
Packing List: 2 x USB 3400mah Rechargeable Battery
Certification :CE FCC MSDS UN38.8